Comes with tortillas (20 pieces), 1 green salsa, and pico de gallo with Jalapeños. 
Carnitas, literally meaning "little meats", is a dish of Mexican cuisine that originated in the state of Michoacán. Carnitas are made by braising or simmering pork in oil or preferably lard until tender. The process takes three to four hours, and the result is very tender and juicy meat, which is then typically served with chopped cilantro, diced onion, salsa, guacamole, tortillas, and refried beans (frijoles refritos).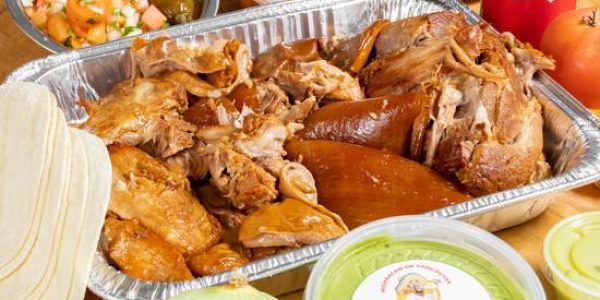 1 torta full of carnitas (250 g) OR 4 big tacos. Comes with green salsa, avocado cream, pico de gallo & 1 can of soda.
Mexican Chorizo, Carne al Pastor (Marinated pork) Tortillas de Harina, Cueritos y manitas en vinagre
$16.90 – 1lb packs. Take them home today! Flash-frozen, ready-to-cook Mexican Chorizo or Carne al pastor.
Manitas en vinagre, ready to eat $33.99 1 kg.  •   Cueritos en Vinagre, ready to eat $31.99 1 kg.